MetroLab is a Think Tank and Consulting Service for metropolitan areas and city regions.
Why Metro
Lab
Creative Governance and planning solutions on metropolitan level.
The continuing urbanization trend is increasingly transforming cities into metropolitan areas. Even though metropolitan management and planning is not yet sufficiently integrated into contemporary planning practice and culture there are first attempts to develop new strategies and tools which tackle the emerging challenges of growing metropolises of the 21st century.
This map is a work in progress and shows fascinating strategies of vibrant metropolitan areas and city regions around the world dealing with climate change, uncontrolled growth and new demands on urban life and mobility.
Share your own strategies and projects:
Build strong connections to local stakeholders and create place-based solutions.

Mara Haas
Only a prosperous callaboration between a city and its surrounding areas can give enough strength to manage emerging urban challenges.

Cédric Ramière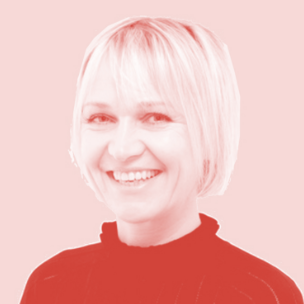 Cities must work on their identity, their DNA, to find a unique role in their international competition.

Claudia Staubmann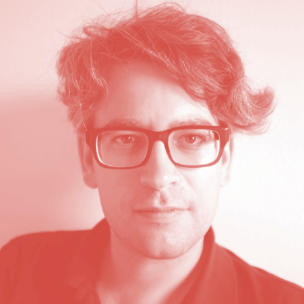 Human-focused planning and design is more important than ever.

Roland Krebs
MetroLab should initiate discussion and help establish an entity.

Stefan Mayr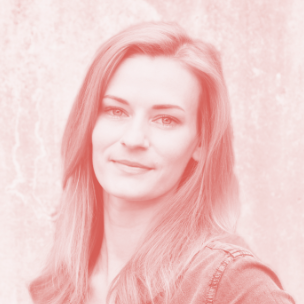 Challenges in metropolitan development are an opportunity to rethink our cities and the way they are reproduced.

Flora Fessler
INTERNATIONAL
DIALOGUE
The MetroLab initiates an International Dialogue on Metropolitan Planning.
The International Dialogue on Metropolitan Planning, consisting of a four-part dialogue series, kicked off in fall 2020 with the first two MetroLab Forums on mobility and urban growth. Two additional Forums on the importance of resilient urban landscapes and the new role and identity of city regions are expected in summer 2021. So stay tuned and, in case you missed the past events, take a look at our Vimeo channel where you can find all the video documentaries.
During a two-day program each MetroLab Forum offers the opportunity to listen to exciting lectures by international experts, participate in walkshops and watch and discuss selected movies. The overall objective is to learn more about the planning challenges and approaches of other metropolitan regions and, in the spirit of this translocal learning experience, to share innovative tools for metropolitan planning and design. Another important part of this process is to reflect on current planning requirements in the Vienna City Region and to discuss alternative holistic approaches and integrated development strategies together with local experts and interested parties.
Take part in our topic-specific forums, bring in your professional or personal perspective and become part of a creative knowledge transfer!
Superwien
Exhibition
SuperWien Metropole – A New Capital for Europe.
The SuperWien Metropole concept envisions the city region Vienna – Bratislava – Wiener Neustadt as a new capital for Europe. In the European context, it acts as a tool for the creation of a strong metropolitan area, while at the same time dealing with the region´s global status, managing its growth and defining its image and social concept.
The SuperWien exhibition aims to communicate new ideas for this city region that will guide further spatial planning. The visionary images primarily addresses the need for more regional governance and consider the area's history and location in the centre of Europe. They suggest new opportunities that will enable the SuperWien Metropole to regain the international status it lost during the 20th century and define its new role in the future.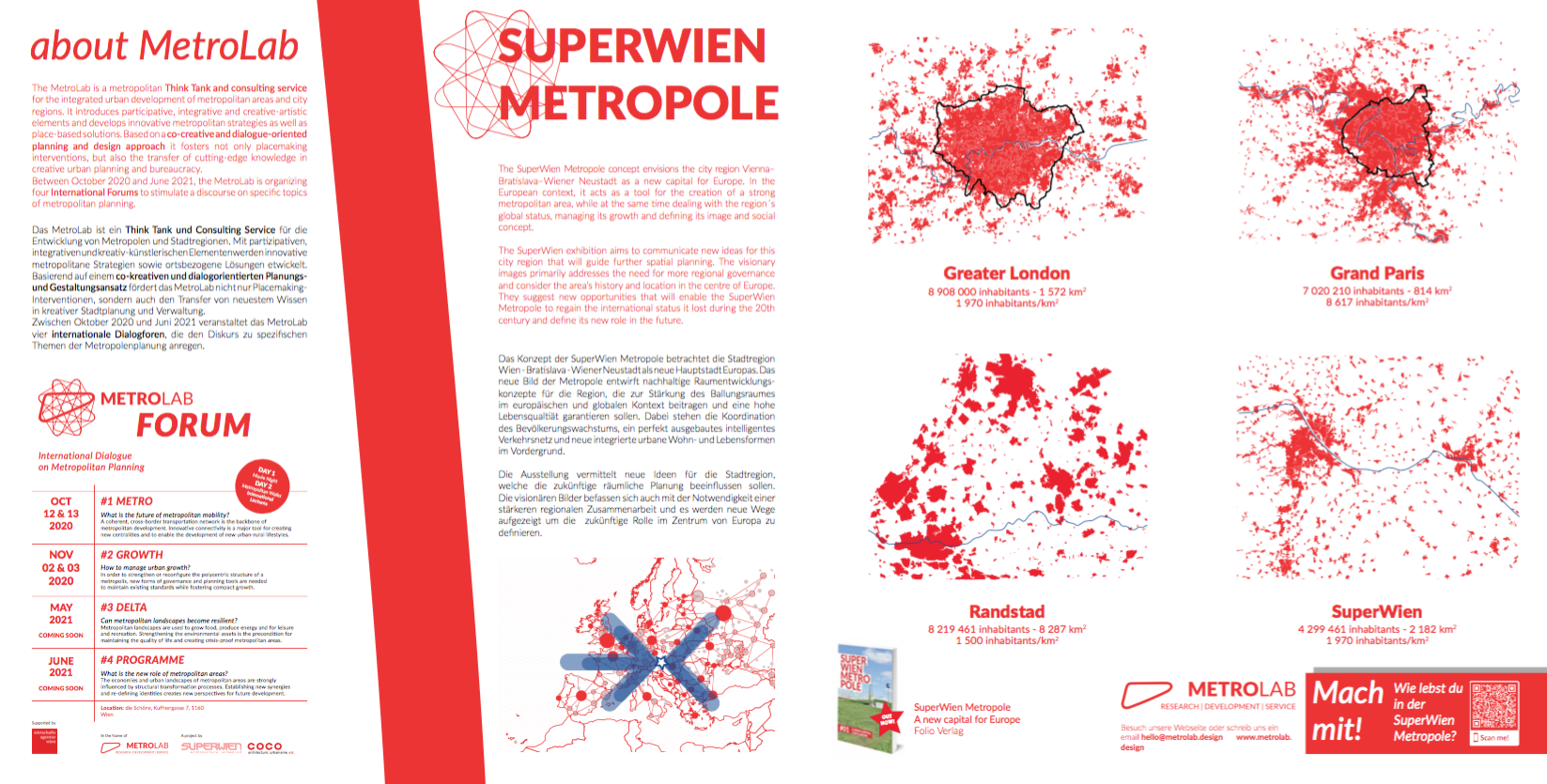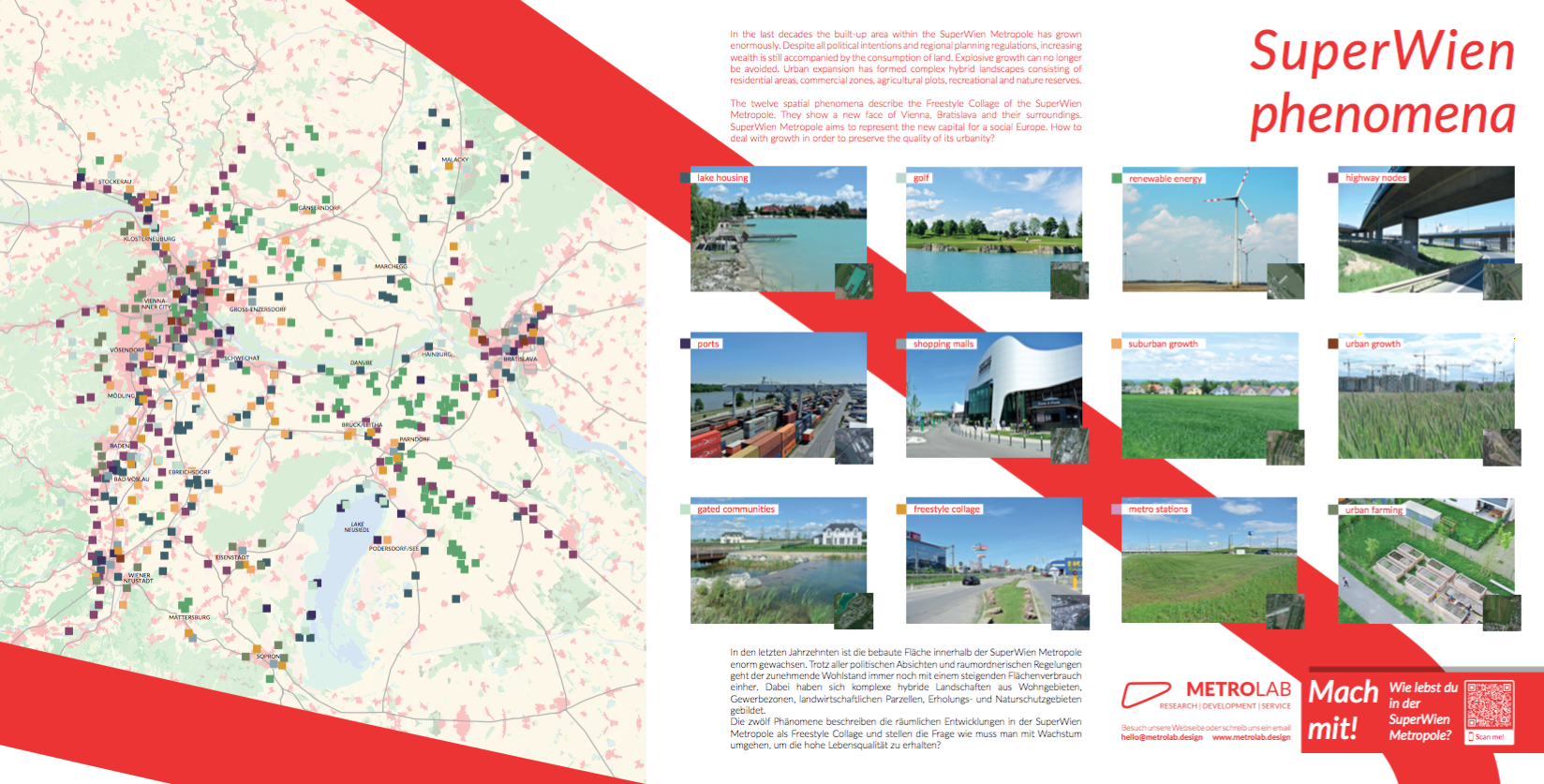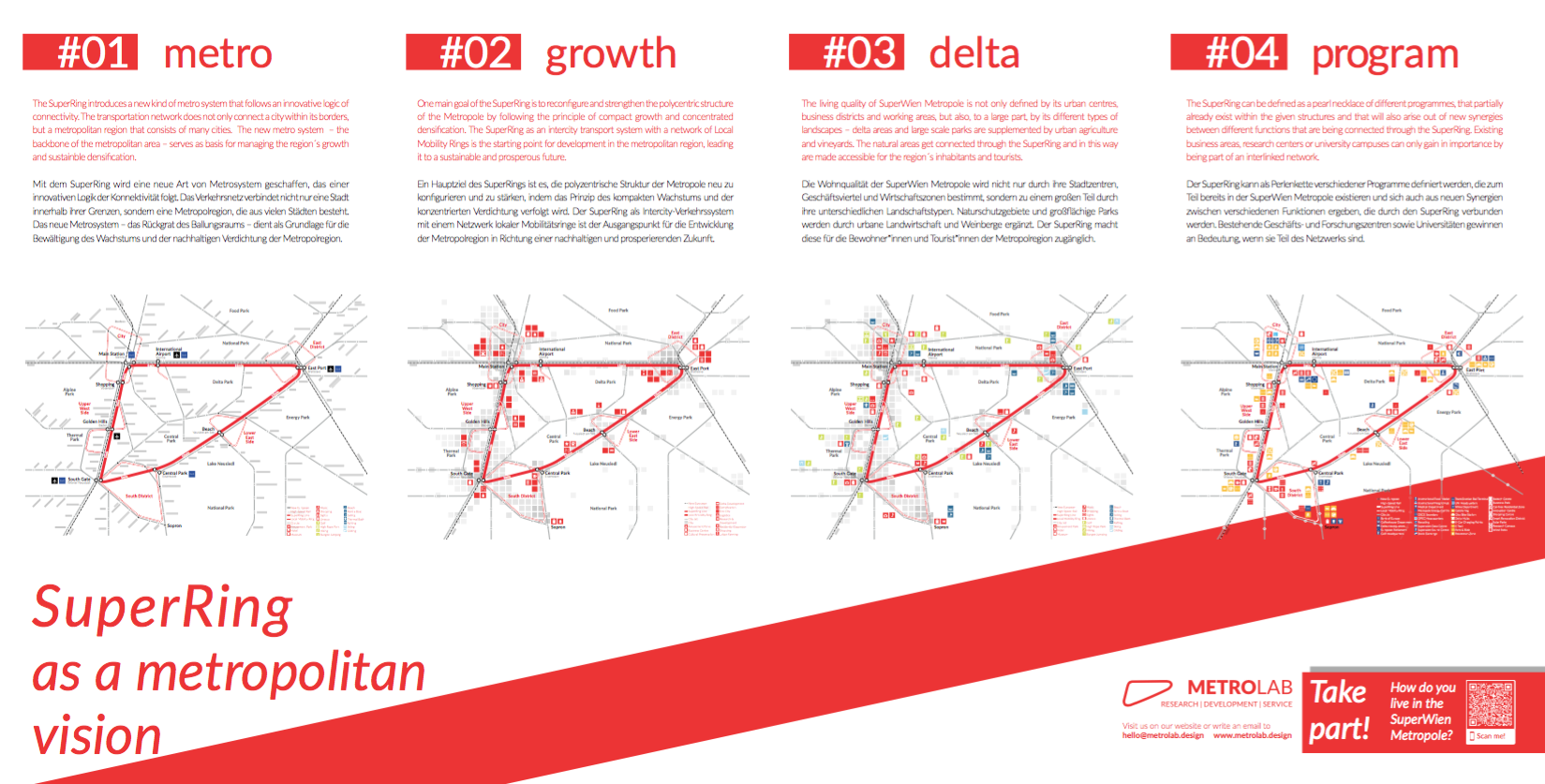 Visit the Exhibition
The traveling exhibition will be on display at various public spaces in the SuperWien Metropole as soon as the pandemic-related situation eases.
Online Survey
Meanwhile, take part in our online-survey and tell us about how your life in the SuperWien Metropole is shaping up and what visions you have for this common living space!
PROJECTS
The methodology of the MetroLab is rooted in several previous projects following a co-creative and dialogue-oriented planning and design approach. Take a closer look at the individual projects here, or download our full portfolio for more information.
About
us
The MetroLab is a metropolitan Think Tank and Consulting Service for the integrated urban development of metropolitan areas and city regions.
It introduces participative, integrative and creative-artistic elements and develops innovative metropolitan strategies as well as place-based solutions. Based on a co-creative and dialogue-oriented planning and design approach, it fosters not only placemaking interventions, but also the transfer of cutting-edge knowledge in creative urban planning and bureaucracy. Facing the immensity of contemporary urban challenges, the MetroLab works with an elaborated toolbox of metropolitan planning.
Our methodology and planning approach are based on the following principles:
Metropolitanisation as a driver of development
We live in an age of fast growing cities, which constantly have to prove their ability to innovate and adapt to changing conditions. To create inclusive, sustainable and resilient human settlements must therefore be the main goal to meet new demands accelerated by metropolitanisation. The MetroLab sees this claim as an opportunity to strengthen the development and management of metropolitan areas and to aunderstand this process as a conscious design task.
Creative Governance as an incentive to foster cooperation
Since pressing issues such as climate change mitigation, the handling of uncontrolled growth or the adaption to new mobility patterns can't be solved exclusively on a local scale, the need of an intensified cooperation across administrative borders and better coordination among all levels of governance becomes evident. Therefore, MetroLab points to the crucial importance of the regional metropolitan dimension and the need for creative solutions that bring together a variety of stakeholders.

Metropolitan Planning as a new discipline
The implementation of new communicative and multisectoral planning tools is the key to raise awareness of emerging metropolitan challenges. Due to different morphological, functional and legal definitions of metropolitan areas, independent advisory services provide essential support in identifying the actual need for action. Thus, we aim to contribute to building the foundation for a new kind of metropolitan planning: a practice discipline that promotes bottom-up processes at the metropolitan level.

The MetroLab Team
Our team consists of the partnering offices Superwien urbanism and CoCo architecture.
The joint MetroLab office in Vienna was founded in early 2020.
Stefan Mayr

Architect ZT
Expert for Urban Design
and Product Design

Mara Haas

Urban and Regional Planner
Expert for Metropolitan Strategies
and Placemaking

Roland Krebs

Urban and Regional Planner ZT
Expert for Urban Design
and Urban Economics

Claudia Staubmann

Architect DETSV
Expert for Housing
and Development Strategies

Cédric Ramière

Architect DPLG
Expert for Sustainability
and Territory Strategies

Flora Fessler

Urban Designer
Expert for Metropolitan Strategies
and Participatory Planning

Alina Bärnthaler

Junior Urban Planner
and Socioeconomist
Superwien is a studio for architecture and urbanism based in Vienna, Austria. The office supports public and private institutions in order to achieve sustainable urban change. Besides developing strategic plans, masterplans and public space projects, Superwien specializes in participatory and dialogue-oriented planning techniques from the national to the global scale.
MetroLab Office Austria
Lenaugasse 2/4
1080-Vienna
tel/fax +43 1 9137621
hello@metrolab.design

CoCo architecture, founded by French-Austrian architects, is an internationally operating network office with three branches in France and one in Vienna, Austria. With its ambitious projects realized all around the globe the CoCo architecture and urban design studio reflects local thinking and traditional attitudes as well as modern approaches. It aims to be a catalyst for social change, putting environmental and lifestyle values at the heart of human endeavor.
MetroLab Office France
La Touille - BP9
F-24250 Cénac et Saint Julien
tel +33(0)5 53 31 10 42
hello@metrolab.design